I usually refer to one or two—if not several—other recipes when creating and "test driving" my own concoctions. These cookies are unusual, though, for I haven't seen anything like them elsewhere. Google searches brought up several oatmeal banana chocolate chip recipes, but none with cocoa.
This recipe is based more upon a traditional chocolate chip cookie than an oatmeal cookie (though I'm planning to try that next). What's great about these cookies is that not only do they contain the nutritional benefits of whole wheat, oats, bananas and walnuts, but they also taste great. The down side is that—despite cutting back on the butter, sugar and chocolate chips called for in similar "traditional" chocolate chip cookies—they still contain too much fat (of the wrong kind) and sugar to be considered a health food by any stretch of the imagination.
As with any treat, enjoy them in moderation, perhaps somewhat comforted by the knowledge that they are more nutritious than many other chocolate chip cookies.
Note: if you don't have almond extract on hand, use a full teaspoon of vanilla (total) instead.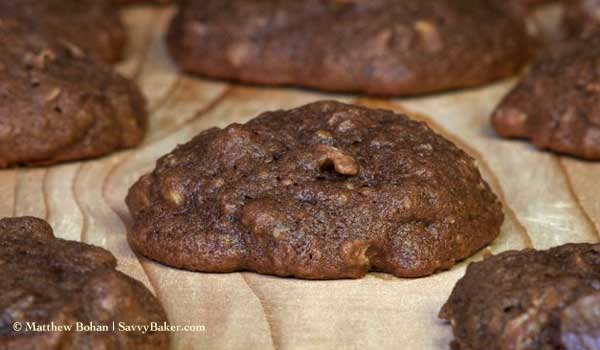 Double Chocolate Banana Nut Cookies
Makes about 2 dozen cookies
1 1/2 cups 50/50 flour *
1/2 cup cocoa powder
1/2 teaspoon salt
1/2 teaspoon baking soda
1/2 cup (1 stick) butter or margarine, softened
1/2 cup packed brown sugar
1/2 cup granulated sugar
1 large egg
1/2 teaspoon vanilla
1/2 teaspoon almond extract
1 medium banana
1/4 cup old-fashioned rolled oats
3/4 cup semisweet chocolate chips
1/2 cup crushed walnuts
* A 50/50 all-purpose/whole wheat flour combo is available in stores, but I mix my own for about half the price. A five-pound bag of whole wheat flour is currently $2.99 at our local large-chain grocery store, just 80 cents more than the comparable all-purpose flour.
Preheat oven to 375° F. Cover a baking sheet with a Silpat mat or cooking spray.
In a small bowl, whisk together flour, cocoa, salt and baking soda. Set aside.
In a large bowl or electric mixer, cream butter and sugars together.
Blend in egg, vanilla and almond extract.
Add banana and blend until fully incorporated.
Add flour mixture, stirring just until combined.
Stir in oats, chips and walnuts.
Drop by scant 1/4-cup scoops onto Silpat mat or prepared baking sheet, leaving 2″ between cookies.
Bake 10-12 minutes, until puffy and set.
Remove pan to wire rack to cool for 5 minutes. Transfer cookies to wire rack to cool completely.
These are best on the day they are made, but leftovers can be stored in an airtight container at room temperature for up to 2 days.
© Liesl K. Bohan  |  SavvyBaker.com