This is a variation of a recipe I found in The Ultimate Rice Cooker Cookbook by Beth Hensperger. The original version tasted great but trashed my cooker, so I came up with this stovetop method. Soaking the pan in water afterwards is a lot easier than disassembling and cleaning the lid of my cooker! To cut costs, I use brown sugar instead of the maple syrup called for in the original recipe.
My go-to topping is dried cherries and walnuts, but I mix it up a bit in the summer when strawberries, blueberries and peaches are in season.
If you haven't tried them yet, steel-cut oats are a nutritious treat. Look for them in the cereal or natural foods section of your grocery store or in bulk at natural foods stores. Depending upon where you buy them, they may seem pricey, but a little goes a long way. For us, this recipe serves two adults and two children.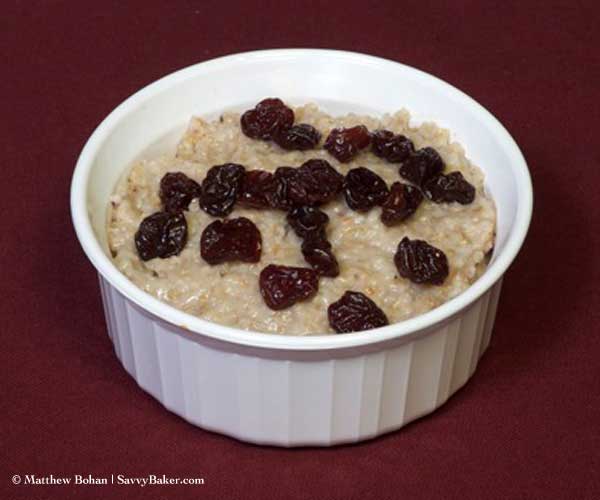 Creamy Vanilla Steel-Cut Oats
1 cup steel-cut oats
2 cups water
1/2 tablespoon vanilla
1/4 cup lightly packed brown sugar
3/4 cup nonfat milk
Topping (optional): dried cherries and walnuts (my favorite), sliced banana, peanut butter, raisins, fresh strawberries, fresh peaches or fresh blueberries (excellent!)
Put oats, water, vanilla and sugar in a medium saucepan. Cover and let stand overnight.
About an hour before breakfast, stir the mixture, replace cover, and set the heat on low.
Simmer for 45 minutes, stirring once or twice to keep the mixture from sticking to the bottom of the pan.
After 45 minutes, stir in milk, replace cover, and continue simmering for another 15 minutes. Keep an eye on it and stir more frequently during this period. Once the milk has been added, the mixture is more likely to stick and burn.
After 15 minutes, remove from heat and keep covered.
Serve warm with your favorite toppings. Add milk if desired.
Store leftovers in a sealed container in the refrigerator for a day or two. Reheat with a little added water or milk.
© Liesl K. Bohan  |  SavvyBaker.com