This is adapted from a Cooking Light recipe I've been using for more than a dozen years. My version features a classic flavor combination: orange and cranberry. (CL's has walnuts instead of cranberries.) It also includes whole wheat flour and contains 25% less sugar than the original.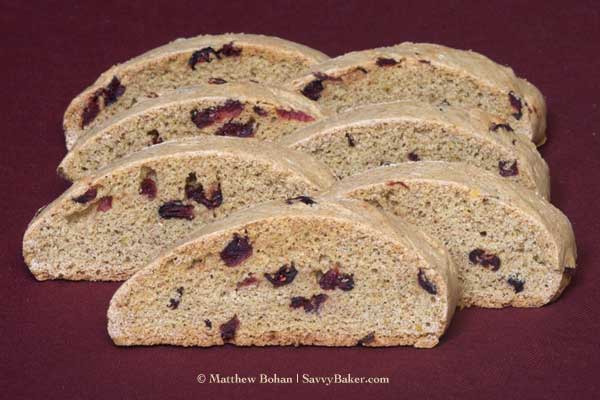 Cranberry Orange Biscotti
Makes about 2 1/2 dozen biscotti
2 cups all-purpose flour
1 cup whole wheat flour
3/4 teaspoon baking soda
1/4 teaspoon salt
3 eggs
3/4 cup sugar
1 teaspoon grated orange peel
1 teaspoon vanilla extract
1/2 teaspoon orange extract
1/2 cup dried cranberries
Preheat oven to 350°F. Cover a large baking sheet with cooking spray or a Silpat mat.
Combine flour(s), baking soda and salt in a large mixing bowl.
Whisk together eggs, sugar, orange peel and extracts in a small bowl.
Pour egg mixture into dry ingredients, blending on low speed until combined.
Add dried cranberries, mixing thoroughly.
Turn dough out on Silpat mat or on a work surface dusted with flour.
Using wet (for Silpat only) or lightly floured hands, shape into a 15-inch log about 1-inch thick and 3 1/2 inches wide.
Bake 30 minutes at 350° F.
Remove from oven and cool for 10 minutes. Reduce oven temperature to 325° F.
Cut log diagonally into 1/2-inch slices, placing slices upright on the mat or pan.
Bake 20 minutes at 325° F.
Transfer to racks to cool.
Store in an airtight container at room temperature for 5-7 days. To extend storage time, freeze in an airtight container immediately after cooling.
© Liesl K. Bohan  |  SavvyBaker.com