This recipe is the successful outcome of a failed experiment. Our first attempt to create a sourdough spinach combo resulted in something only Popeye would love. By reducing the spinach and adding blue cheese and dried tomatoes, we came up with something that we think is really good. As always, let us know what you think.
Note: this recipe may seem more gourmet than our usual fare, but with two blue-cheese addicts in the house and an interest in getting our children to eat more greens, it was worth experimenting. We buy blue cheese in huge wedges from Sam's Club, and the dried tomatoes are from last summer's garden.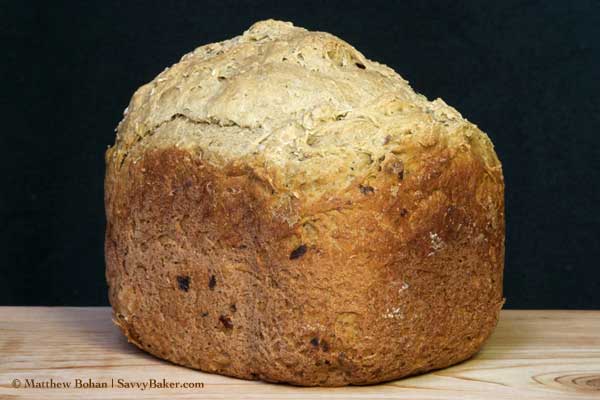 Blue Cheese Sourdough Spinach Bread
Makes one 2-pound loaf
3/4 cup + 2 tablespoons water
1 1/4 cups starter
4 teaspoons sugar
2 teaspoons salt
3 cups bread flour
1 cup oats
2 1/4 teaspoons rapid or quick yeast
1/2 cup crumbled blue cheese
1/2 cup cooked, drained spinach
1/4 cup dried tomatoes, chopped
Add the first seven ingredients (water through yeast) to bread machine in the manufacturer's recommended order. Use the light or basic setting for a 2-pound loaf.
Add cheese, spinach and tomatoes at the beep.
Once baked, cool for at least 30 minutes before slicing.
© Liesl K. Bohan  |  SavvyBaker.com