This recipe is the result of combining a great-tasting, high-fat scone with a decent-tasting, good-for-you scone. The result is, fortunately, a great-tasting scone that is high in nutrients and low in fat and calories. The primary nutritional benefits come from the bran, whole wheat flour and bananas, boosted by some protein from the milk and eggs.
For my anti-nuts kid, I have made two variations to this. In one, I use dried cranberries instead of walnuts. We like fresh cranberries in banana bread, so this isn't a stretch and works well. For the other variation, I sprinkle 1/4 cup of crushed walnuts across half of the surface of the scone dough just before baking, pressing them in lightly—thus leaving half of the scones nut-free. I would not recommend this if you're dealing with true nut allergies. I'm merely baking for someone with a preference.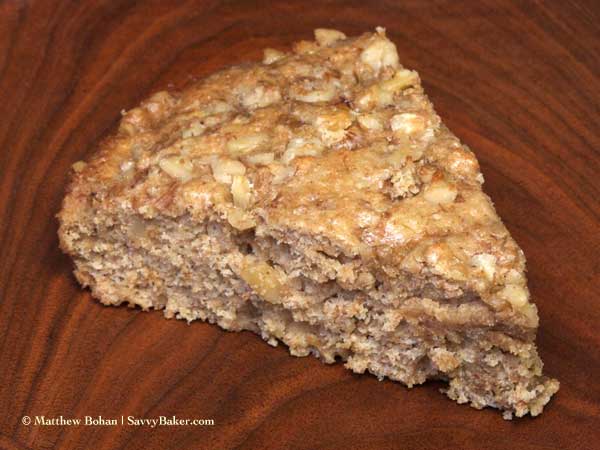 Amazing Banana Nut Scones
Makes 8 large or 12 small wedges
1 cup bran flakes cereal
1/3 cup evaporated nonfat milk
2 cups 50/50 all-purpose/whole wheat flour mix*
3 tablespoons chilled, unsalted butter
2 teaspoons baking powder
1/2 teaspoon salt
2 medium mashed bananas
2 eggs
1/2 cup brown sugar
1 teaspoon vanilla
1/2 cup crushed walnuts
* A 50/50 all-purpose/whole wheat flour combo is available in stores, but I mix my own for about half the price. If you don't have a mix on hand, just use 1 cup of all-purpose flour and 1 cup of whole wheat flour.
Preheat oven to 375° F and mist a 10-inch quiche dish or pie plate with cooking spray.
Combine cereal and milk in a small bowl and allow to stand for at least 5 minutes.
Put flour, butter, baking powder and salt in a food processor and pulse until butter is fully incorporated. (If you don't have a food processor, cut butter into dry ingredients using fingers, knives or pastry blender.)
Combine bananas, eggs, brown sugar and vanilla in a large mixing bowl and blend well.
Add bran mixture to banana mixture and blend well.
Add dry ingredients to wet all at once and stir just until moistened.
Fold in nuts, unless you're following one of the variations mentioned in the introduction. The dough will be wet, looking more like muffin batter than typical scone dough.
Turn dough into pie plate and level. Add nuts during this step if following the half "nut-free" variation.
Bake for 23-25 minutes, until a toothpick inserted into the center comes out clean.
Cool in dish on wire rack for 10-15 minutes before slicing into 8 or 12 wedges.
Serve warm or at room temperature.
Store in a tightly sealed container at room temperature for up to two days.
© Liesl K. Bohan  |  SavvyBaker.com