Not only do these nutrient-dense cookies have more protein and fruit than a typical cookie, but children love them. Skip the chocolate chips, and you could even serve one or two for breakfast.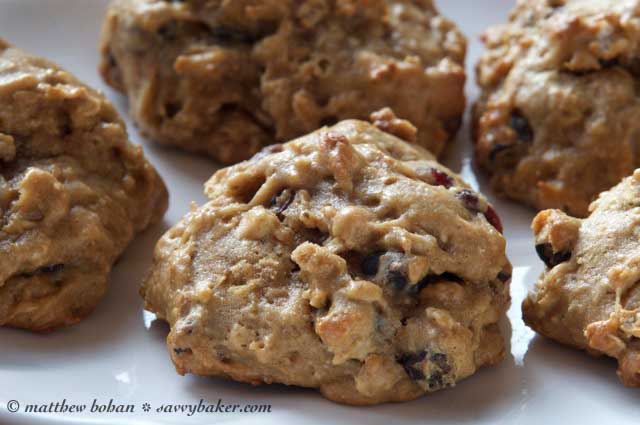 Peanut Butter Banana Oat Cookies
1 medium-sized banana, well ripened
1 cup peanut butter, smooth or crunchy
1/2 cup brown sugar, packed
1 egg
1 cup whole wheat or all purpose flour (I use a 50/50 mix)
1 cup rolled oats, not instant
1 teaspoon baking powder*
1/2 cup dried cranberries, optional
1/2 cup chocolate chips, optional
Preheat oven to 375° F, and lightly coat baking sheet(s) with cooking spray.
Cream peanut butter and brown sugar together.
Add banana and beat until fully mashed.
Add egg and mix for another minute.
Stir in flour, oats, and baking powder, stopping before the dry ingredients are fully moistened.
Fold in cranberries and chips, if desired, mixing just until these and the dry ingredients are fully incorporated.
Drop by rounded tablespoons onto prepared pan(s), leaving about 2″ of space between the cookies.
Bake for 12-14 minutes, until set and lightly browned.
Move baking sheet to wire rack for cookies to cool.
* For chewier cookies, omit baking powder.
These can be stored in a tight container at room temperature for a couple of days, but they become somewhat muffin-like in texture after the first day, unless baking powder is omitted.
© Liesl K. Bohan | SavvyBaker.com