Our son insists he doesn't like peanut butter, but he really enjoys this bread. Sliced, toasted, and lightly buttered, it delivers a nice dose of fruit and protein for breakfast. For a tasty afternoon snack, substitute chocolate chips for the dried cranberries.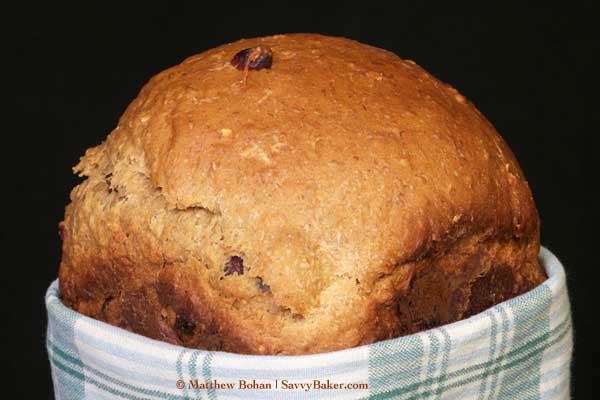 Peanut Butter Banana Oat Bread
Adapted from The Bread Machine Cookbook II by Donna Rathmell German
Makes one 2-pound loaf
1 1/2 cups mashed ripe bananas (about 3 medium)
1/2 cup creamy peanut butter
1 1/4 eggs or 1/4 cup + 2 tablespoons egg substitute
1 teaspoon salt
1/4 cup sugar
1 cup rolled oats (not instant)
3 cups bread flour
2 1/2 teaspoons rapid or instant yeast
1/2 cup dried cranberries
Add all ingredients except cranberries to bread machine in the manufacturer's recommended order. Use the sweet or fruit and nut setting for a 2-pound loaf.
Add cranberries at the beep.
Once baked, cool for at least 30 minutes before slicing.
Store in a tightly sealed container at room temperature for up to three days.

© Liesl K. Bohan  |  SavvyBaker.com