This recipe falls into the semi-homemade category, a lá Sandra Lee, using a boxed mix to speed things up. It includes whole grains and a vitamin-packed veggie for a hearty, healthful breakfast. Enjoy!
Note: I have a hard time making my pancakes look good (round) if the batter is runny, so this is a little on the thick side to suit my preference. For a thinner batter, omit 1/4 cup of the pancake mix.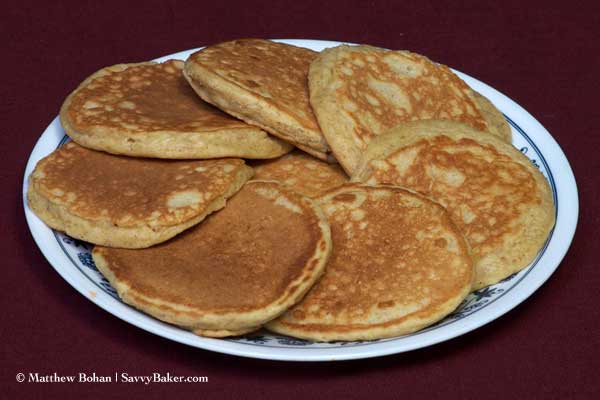 Multigrain Pumpkin Pancakes
2 1/4 cups multigrain pancake mix (I like Trader Joe's)
1/8 teaspoon cinnamon
2 large eggs
1 cup nonfat milk
1/3 cup cooked pumpkin
2 tablespoons oil
2 tablespoons brown sugar
Whisk pancake mix and cinnamon together in a medium bowl and set aside.
Combine remaining ingredients in a blender and puree.
Pour wet ingredients into dry and whisk or stir together in as few strokes as possible, mixing just until combined.
Cook pancakes into whatever sizes and shapes you like. Top with your favorite syrup and serve immediately.
When there are leftover pancakes, we store them in the refrigerator and toast them for breakfast the next day. Yum!
© Liesl K. Bohan  |  SavvyBaker.com