I just made my first batch of these a few days ago, and they were fantastic. Next time, I'm going to skip the chips and serve them for breakfast. Adapted from Great Coffee Cakes, Sticky Buns, Muffins & More by Carole Walter.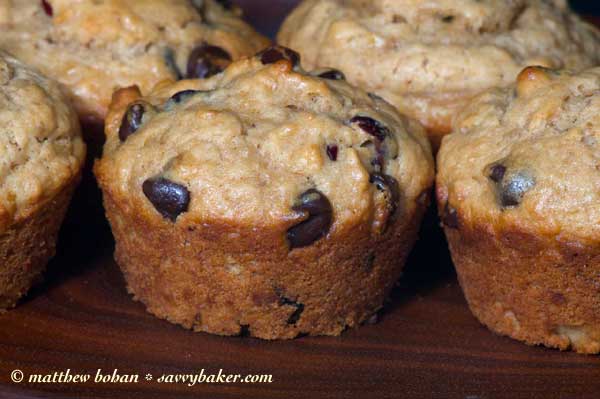 Incredible Peanut Butter Banana Muffins
1/2 cup brown sugar, packed
1/3 cup smooth peanut butter
1 egg
1/2 cup nonfat vanilla yogurt
1 well-ripened medium banana, mashed
1/3 cup canola oil
1 teaspoon vanilla extract
1 1/2 cups whole wheat or all purpose flour (I use a 50/50 mix)
1 teaspoon baking powder
1/2 teaspoon salt
1/4 teaspoon baking soda
1/2 cup dried cranberries
1/3 cup chocolate chips, optional
Preheat oven to 375° F, and coat 12 muffin cups with cooking spray.
Cream brown sugar, peanut butter and egg together in a mixer.
Scrape down the side of the bowl, then add yogurt, banana, oil and extract. Mix until completely blended.
In a separate bowl, whisk together the dry ingredients: flour, baking powder, salt, and baking soda.
Add dry ingredients to the peanut butter mixture, stirring slowly and stopping just before the flour mix is fully moistened.
Fold in cranberries and chips, mixing just long enough to incorporate them and fully moisten the dry ingredients.
Distribute evenly among the 12 prepared muffin cups, and bake for 23 to 25 minutes, until the tops are golden brown and spring back to the touch.
Cool in pan on a wire rack.
These store well for a couple of days at room temperature in a tightly sealed container. They can also be frozen.
© Liesl K. Bohan @ SavvyBaker.com