Though ideal for lunch, this bread is great at any time of day. It's tasty on its own, sliced and toasted with a touch of butter, but you could also serve it with soup or salad to make a meal. Our kids love this, and we're always happy to "sneak" a serving of fruit or vegetables into their breads.
Note: we're not big fans of garlic or onions. I know; I know. It's hard to believe anyone would shun these ingredients on a regular basis, but the truth is that the two of us are happier and healthier without them. (Trust me; you don't want to know all the details.) Anyway, if you happen to be among the majority who enjoy them, you might want to use an Italian-seasoned tomato paste in this recipe.
As prices have gone up, we've started buying tomato paste cans by the dozen at ALDI, a store that sells them for less that 40 cents each. As for the cheese, we used to buy Parmesan but now opt for the less-expensive-but-still-excellent Asagio, typically from Sam's Club.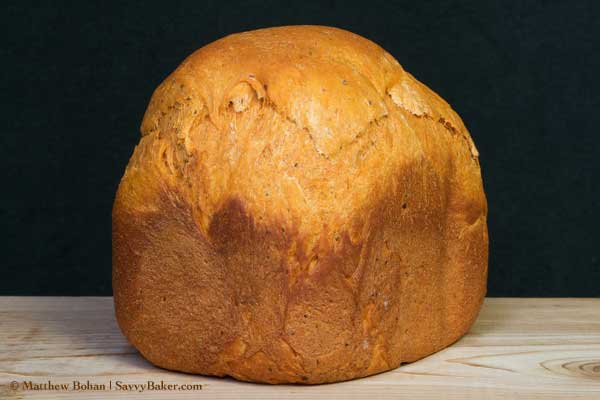 Hearty Pizza Bread
Adapted from The Bread Machine Cookbook V by Donna Rathmell German
Makes one 2-pound loaf
1 6-oz. can tomato paste
1 cup water
2 1/2 tablespoons canola or olive oil
1 egg
1/3 cup freshly grated Parmesan or Asagio cheese
1 teaspoon dried basil
1/2 teaspoon dried oregano
2 tablespoons sugar
1 teaspoon salt
2 1/2 cups bread flour
1 cup whole wheat flour
1 1/2 teaspoons rapid or quick yeast
Add all ingredients to bread machine in the manufacturer's recommended order. Use the light or basic setting for a 2-pound loaf.
Once baked, cool for at least 30 minutes before slicing.
© Liesl K. Bohan  |  SavvyBaker.com