Not only are these nutrient-dense scones packed with oats, whole grain wheat flour, and cherries, but they also contain less fat than a typical scone. Some might prefer the texture provided by the buttermilk and 10 ounces of butter called for in a similar recipe, but our kids love this version, and that works for me!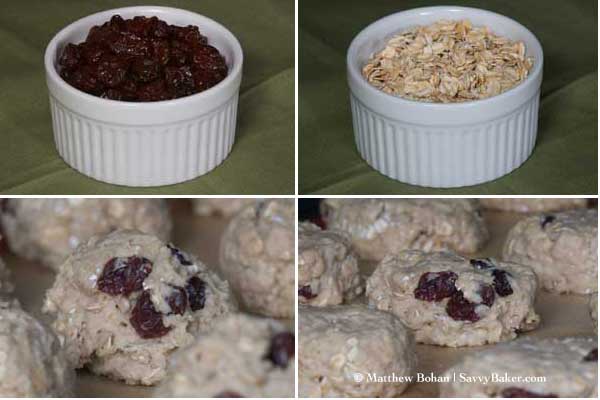 "Dropped" scone dough is on left, flattened on right…
Hearty Cherry Oat "Drop" Scones
Makes 14-16
2 1/2 cups rolled oats, not instant
2 cups whole wheat flour
1 cup all purpose flour
1/2 cup sugar
1/2 teaspoon salt
1 teaspoon baking soda
2 teaspoons baking powder
5 tablespoons chilled butter or margarine, cut into small pieces
1 cup dried cherries
3/4 cup lowfat vanilla yogurt
1/2 cup lowfat or nonfat milk
Preheat oven to 350° F, and lightly coat a large baking sheet with cooking spray.
Combine dry ingredients (oats through baking powder) in a large mixing bowl.
Add butter, and blend until mixture resembles coarse crumbs.
Stir in cherries.
Add yogurt and milk, and stir just until all dry ingredients are moistened.
Drop the dough onto the baking sheet in mounds, using about 1/4 cup per scone.
Using a little water or butter to moisten your hands, flatten each scone to 1-inch thickness.
Bake for 18-20 minutes, until lightly browned.
Store at room temperature in a tightly covered container for up to three days.
© Liesl K. Bohan  |  SavvyBaker.com