This is a nut-free variation of my Cranberry Orange Walnut Bread, created specifically for my son, who won't eat any bread with nuts. He's not allergic, thankfully, but he can't—or won't—keep them down, so we don't even try anymore. Muffins are easier to serve to children anyway.
Don't be intimidated by the number of ingredients; this recipe is pretty easy, and using a blender for half of the ingredients speeds things up.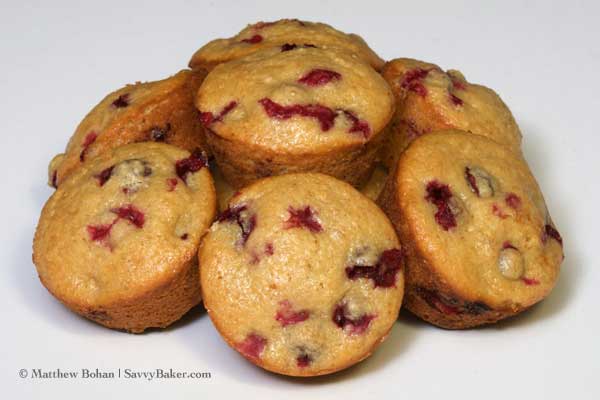 Double Cranberry Orange Muffins
Makes 24 muffins
1 cup rolled oats, instant or old fashioned
1 1/4 cups orange juice
1/2 cup canola oil
3/4 cup nonfat plain yogurt
2 eggs
1 cup brown sugar
1 1/2 cups all purpose flour
1 cup whole wheat flour
2 teaspoons baking powder
1/2 teaspoon baking soda
1/2 teaspoon salt
2 teaspoons grated orange peel
1 cup fresh or frozen cranberries
1/2 cup dried cranberries
Preheat oven to 350º F, and mist two muffin tins with cooking spray.
Put oats, orange juice, oil, yogurt, eggs, and sugar in a blender and puree.
In a separate bowl, stir together flour (both), baking powder, baking soda, salt, and orange peel.
Pour wet ingredients to the dry ones and mix just until blended.
Fold in all cranberries.
Scoop batter into prepared pans.
Bake at 350° F for 18-20 minutes, until tops are golden brown and pass a toothpick test.
Cool in pan for 5 minutes, then remove to wire rack to cool completely.
Store in an airtight container at room temperature for up to three days. I like to freeze half of the muffins, double-bagging them after they cool completely and freezing them for no more than two or three months.
© Liesl K. Bohan  |  SavvyBaker.com