Most of the biscotti recipes I've used or modified over the years have come straight out of Cooking Light magazine. This new favorite, adapted from Prevention.com, is a bit more decadent. The calorie "costs" are somewhat offset by the added nutrients in the whole wheat flour, almonds, and dried cherries—none of which were in the original recipe. As for the often-pricey almonds and dried cherries, try buying them in bulk to cut the cost per pound.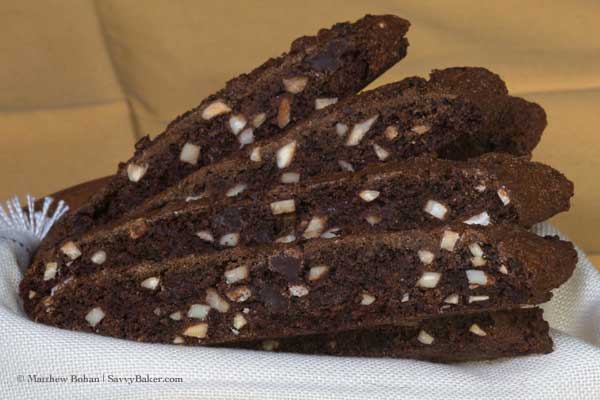 Double Chocolate Almond Biscotti
Makes about 2 dozen biscotti
1 cup all-purpose flour
1/2 cup whole wheat flour
1/2 cup cocoa powder
2 teaspoons baking soda
Pinch of salt
3/4 cup sugar
3 large eggs
1 tablespoon canola oil
1 teaspoon vanilla extract
1/4 cup semi-sweet chocolate chips
1 cup roughly chopped almonds, toasted
1/2 cup dried cherries, chopped (optional)
Preheat oven to 350°F. Cover a large baking sheet with cooking spray or a Silpat mat.
Whisk together flour, cocoa, baking soda, and salt in a large mixing bowl.
In a small bowl whisk together sugar, eggs, oil, and extract.
Add egg mixture to dry ingredients, and blend on low speed until thoroughly combined.
Add chocolate chips, chopped almonds, and cherries, mixing thoroughly.
Divide dough into two equal pieces and place on Silpat mat (on pan) or on a work surface dusted with flour.
Using wet (for Silpat only) or floured hands, shape each piece into a log about 10″ long and 2 1/2″ wide. They should be about 3/4″ thick.
Place logs at least two inches apart on the mat or pan.
Bake until set, 23-25 minutes.
Remove from oven and cool for 10 minutes.
Change oven temperature to 325° F.
Cut logs diagonally into 1/2″ slices and place upright on the mat or pan.
Bake until firm, about 15 minutes.
Transfer biscotti to racks to cool.
Store in an airtight container at room temperature for 5-7 days. To extend storage time, freeze in airtight containers immediately after cooling.
Note: the almonds in the photo were sliced, not chopped.
© Liesl K. Bohan  |  SavvyBaker.com