I have always loved the combination of cranberry and orange flavors in bread and muffins. The cranberry orange quick bread recipe that I used for years called for more oil (in the form of butter) than I wanted and contained no whole grains. This modified version of a similar recipe replaces some of the oil with yogurt and incorporates oats and whole wheat flour for added fiber and nutrition. Also, I really like the texture of walnuts in quick breads, but my son won't eat them. For a nut-free variation, see Double Cranberry Orange Muffins.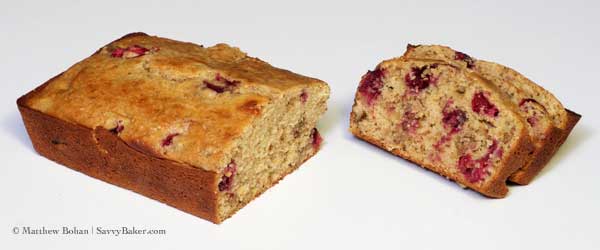 Cranberry Orange Walnut Bread
Makes 2 loaves
1 cup rolled oats, instant or old fashioned
1 1/4 cups orange juice
1/2 cup canola oil
3/4 cup nonfat plain yogurt
2 eggs
1 cup brown sugar
1 1/2 cups all purpose flour
1 cup whole wheat flour
2 teaspoons baking powder
1/2 teaspoon baking soda
1/2 teaspoon salt
2 teaspoons grated orange peel
1 cup fresh or frozen cranberries, dusted with flour
1 cup crushed walnuts
Preheat oven to 350º F, and mist two 8″ x 4″ loaf pans with cooking spray.
Put oats, orange juice, oil, yogurt, eggs, and sugar in a blender and puree.
In a separate bowl, whisk together flour (both), baking powder, baking soda, salt, and orange peel.
Pour wet ingredients to the dry ones and mix just until blended.
Fold in cranberries and walnuts.
Spoon batter into prepared pans and smooth to level.
Bake at 350° F for 50-60 minutes, until bread is golden brown and passes a toothpick test.
Cool in pan for 5 minutes, then remove to wire rack to cool completely.
I serve this fresh on the first day, then toasted with a tiny bit of butter the next day.
Store in an airtight container at room temperature for up to three days. I like to keep one loaf out and freeze the other, double-bagging it after it cools completely and freezing it for no more than two or three months.
© Liesl K. Bohan  |  SavvyBaker.com