I fell in love with biscotti years ago and have been giving them as Christmas gifts ever since. This is perhaps the most unusual variation I've come across. With its aromatic blend of spices, the loose tea imparts interesting colors and exotic flavors to these cookies and—along with the ginger and cinnamon—a few antioxidants as well.
Caution: if you haven't made biscotti before, you might not want to start with this recipe. The dough is incredibly crumbly, making it a bit difficult to work with. If you are already familiar with "normal" biscotti, you might be more comfortable wrangling this into the appropriate log shapes.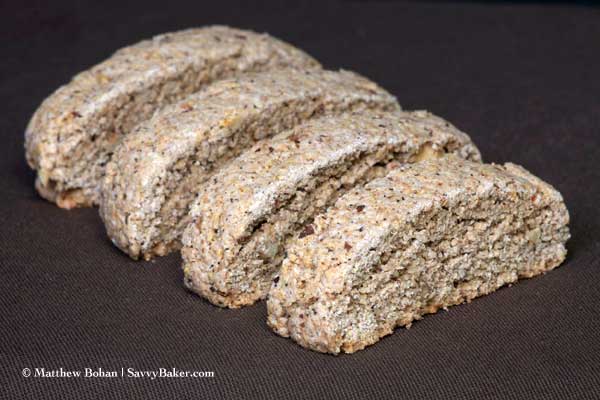 Chai Nut Biscotti
Adapted from Cooking Light
2 3/4 cups whole wheat or all-purpose flour (I use a 50/50 mix)
3/4 cup sugar
1 tablespoon loose Chai tea (about 3 tea bags; I used a mix of Bigelow and Celestial Seasonings)
2 teaspoons baking powder
1 teaspoon ground ginger
1 teaspoon ground cinnamon
1 tablespoon vegetable oil
2 tablespoons water
3 large eggs
1/3 cup crushed walnuts
Preheat oven to 350° F, and cover a baking sheet with cooking spray or a Silpat mat.
Whisk together flour(s), sugar, tea, baking powder, ginger and cinnamon in a large bowl.
Add oil, water and eggs to the flour mixture, stirring until well blended.
Add walnuts, mixing thoroughly.
Divide the dough, which will look like a bowlful of crumbs at this point, into two equal pieces.
Using the Silpat mat or a lightly floured surface, shape each portion into an 8" log, kneading as necessary to get the dough to hold together.
Place logs at least six inches apart on baking sheet (or Silpat mat) and flatten to 1" thickness.
Bake for 30 minutes.
Remove logs from baking sheet to cool on a wire rack for 10 minutes.
Reduce oven temperature to 325° F.
Cut logs diagonally into 1/2" slices and place upright on the mat or pan.
Bake until almost firm, about 20 minutes.
Transfer biscotti to racks to cool.
Store in an airtight container at room temperature for 5-7 days. To extend storage time, freeze in airtight containers immediately after cooling.
© Liesl K. Bohan  |  SavvyBaker.com