Until looking through Olwen Woodier's Apple Cookbook, it had never occurred to me that I could bake apples into banana bread. As a mom, I loved the idea that I could serve even more fruit to my children by offering another slice of bread at breakfast or snack time. The original recipe is delicious, and I think this variation is excellent as well. For an easier-to-serve version, try my Whole Grain Banana Apple Muffins.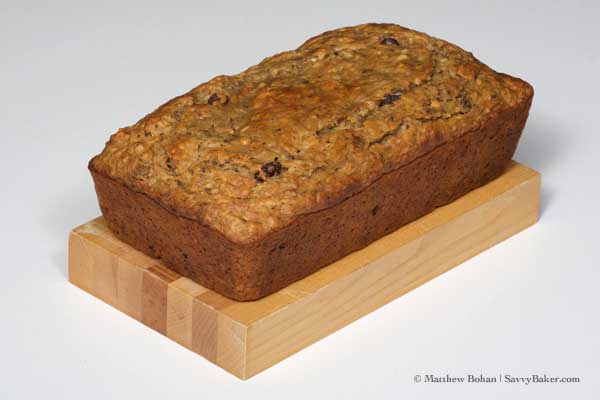 Banana Apple Nut Bread
Makes 2 loaves
5 medium bananas
1 cup brown sugar
4 eggs or 1 cup egg substitute
1/2 cup canola oil
1/4 cup lowfat vanilla yogurt
2 cups whole wheat flour
1 1/2 cups all-purpose flour
4 teaspoons baking powder
1 teaspoon baking soda
2 medium apples, peeled, cored and diced
1 cup crushed walnuts
1 cup raisins (optional)
Preheat oven to 350° F, and coat two 8″ x 4″ loaf pans with cooking spray.
Combine bananas, brown sugar, eggs or egg substitute, oil, and yogurt in large mixing bowl.
Blend until bananas are thoroughly mashed and combined with the other ingredients.
Add flour, baking powder, and baking soda to the banana mixture. Stir gently, stopping just before everything is completely moistened.
Fold in apples, walnuts, and (optional) raisins, mixing just until everything is incorporated.
Distribute evenly between the two pans, and bake for 50-60 minutes, until a toothpick inserted near each center comes out clean.
Remove pans to a wire rack to cool.
Store in an airtight container at room temperature for up to three days.
© Liesl K. Bohan  |  SavvyBaker.com