Cherries, oatmeal and blueberries contribute red, white and blue to these patriotic cookies. Chocolate chip cookies of any variety seem to be a national favorite, anyway. I first adapted this recipe to "sneak" fruit and whole grains into our children's diet.
We always have dried cherries in stock, buying them in bulk from Sam's Club at $5.50 a pound. Meijer sells them in the same quantity for the same price. Dried blueberries, however, are an expensive rarity in our pantry. The best price I've seen for them is at Great Harvest Bread Company.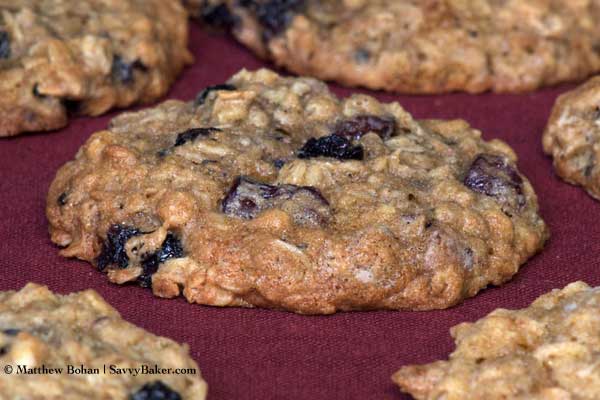 All-American Oatmeal Chocolate Chip Cookies
Adapted from Quaker's Vanishing Oatmeal Raisin Cookies
1/2 cup (1 stick) + 6 tablespoons butter or margarine, softened
3/4 cup packed brown sugar
1/2 cup sugar
2 eggs
1/2 teaspoon vanilla
1/4 teaspoon almond extract
1 1/2 cups whole wheat or all-purpose flour (I use a 50/50 mix)
1 teaspoon baking soda
1/2 teaspoon salt
3 cups rolled oats, not instant
1/2 cup dried cherries
1/2 cup dried blueberries
3/4 cup chocolate chips
Preheat oven to 350°F.
Cream butter (or margarine) and sugars in a large mixing bowl.
Add eggs, vanilla and almond extract, beating well.
Blend in flour(s), baking soda and salt.
Add oats, dried cherries, berries and chips, mixing well.
Drop dough by scant 1/4-cup scoops onto an ungreased cookie sheet or Silpat mat, leaving at least 2″ between cookies.
Bake 13-15 minutes, until set and light golden brown.
Cool for a couple of minutes on cookie sheet, then remove to a wire rack to cool completely.
Store in a tightly covered container at room temperature for up to three days.
© Liesl K. Bohan  |  SavvyBaker.com