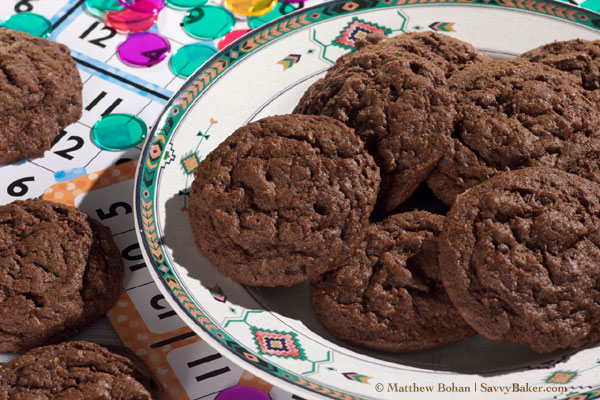 By dark chocolate, I mean really dark—and not just because of the chips. Adapted from a recipe on the back of the Nestlé Toll House Dark Chocolate & Mint Morsels bag, this concoction has added coffee and less sugar, giving the cookies a deep chocolate flavor suitable for cacao aficionados. Indeed, I thought these would only appeal to adults, but they have received rave reviews from children as well. I think the mint is why our daughter likes them so much. The chocolate-mint duo is such a winning combination that the omitted sugar (2/3 cup) and butter (1/2 stick) don't seem to be missed.
Note: These photos were taken months ago, when I was experimenting with less cocoa in the recipe. The final "approved" cookies are much darker, but I'm not about to ask Matt to take more pictures after he did such a great job with these! Also, if you use Nestlé Mint Morsels, you'll definitely be able to see the green chips in most of the cookies, unlike the all-chocolate varieties shown here.
Dark Chocolate Mint Chip Cookies
Makes almost 3 dozen cookies
8 tablespoons (1 stick) margarine at room temperature
4 tablespoons (1/2 stick) unsalted butter at room temperature
1 cup packed brown sugar
2 large eggs
4 tablespoons (1/4 cup) unsweetened applesauce
2 teaspoons instant coffee granules or espresso powder
1 teaspoon vanilla extract
1/8 teaspoon mint extract
2 cups 50/50 flour*
2/3 cup unsweetened cocoa powder
1 teaspoon baking soda
½ teaspoon salt
1 1/4 cups mint morsels and dark chocolate chips  (I recommend 3/4 cup Nestlé Toll House Dark Chocolate & Mint Morsels plus 1/2 cup Ghirardelli 60% Cacao Bittersweet Chocolate Chips or 1/2 cup mini semisweet chocolate chips)
* Note: You can buy this off the shelf, but I use a less-expensive homemade mix of all-purpose and whole wheat flour. If you don't have a mix ready, use 1 cup each of whole wheat flour and all-purpose flour for this recipe. 
Preheat oven to 325°F and line baking sheet with a Silpat mat or parchment paper.
Cream margarine, butter and sugar in a stand mixer.
Add eggs, applesauce, coffee and both extracts. Mix slowly at first, then scrape down sides and beat until well combined.
In a separate bowl, whisk together flour, cocoa powder, baking soda and salt. Add to wet ingredients and blend until combined. Dough will be stiff.
Add chocolate chips and mix well.
Drop dough one medium cookie scoop or packed tablespoon at a time onto prepared baking sheet, 2 inches apart.
Bake 12-14 minutes, until set.
Cool for a couple of minutes on baking sheet, then remove to a wire rack to cool completely.
Chewy after cooling, these become cake-like after being stored overnight. They are best eaten within a couple of days. Store between layers of wax paper in a loosely covered container.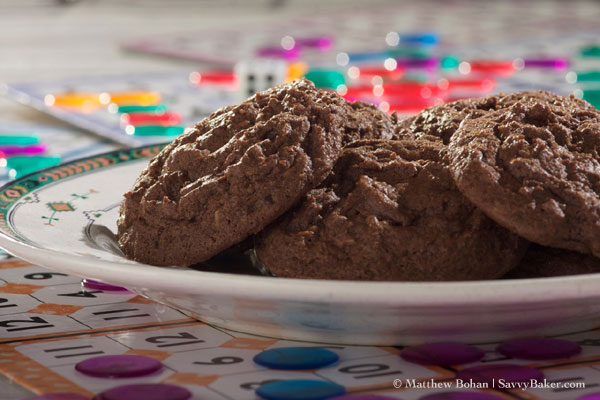 © Liesl K. Bohan  |  SavvyBaker.com